Quick Sweet Potato Skins Recipe Most Delicious Sweet Potato Appetizer for Football Party
Who doesn't like potato skins? Wait until you try this Sweet Potato Skins recipe!  These healthy sweet potato skins make the most amazing, make-ahead healthy sweet potato appetizer.   Watching football, tailgating or watching the Super bowl, this #1 bar food is everyone's favorite. Who doesn't like potato skins? Men and women, and kids of all ages will enjoy these Sweet Potato Skin appetizers from Holly Clegg's KITCHEN 101 cookbook. A mix of sweet and savory with the naturally sweet potatoes, topped with turkey bacon, cheese and a sprinkle of green onions. You might be surprised to find out this tops everyone's favorite diabetic sweet potato recipes. Easy, make ahead and fantastic!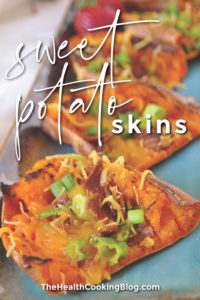 Yes, this is an easy healthy recipe and only has four ingredients.  I like make-ahead recipes so you can prepare on your own time frame. My healthy sweet potato skins recipe makes the best sweet potato appetizer ever. Potato skin appetizers gets a deliciously healthy spin with fiber-rich sweet potatoes and healthier ingredients ideal for any appetizer or snack.




6





medium sweet potatoes




4

slices





turkey bacon

cooked and crumbled




1/2

cup





green onions

chopped




2/3

cup





reduced-fat shredded Cheddar cheese
Wash potatoes well, and dry thoroughly. Microwave on high 8-10 minutes depending on size (or in 425˚F oven bake 50-60 minutes). When potatoes cool to handle, cut in half lengthwise; scoop out pulp, leaving a 1/4-inch shell (save pulp for another use). Cut potato skins in half width-wise.


Place potato skins on baking sheet lined with foil. Coat skins with nonstick cooking spray.


Bake 475°F for 5-7 minutes; turn and coat skins on other side with nonstick cooking spray. Bake until crisp, 3-5 minutes more.


In small bowl, mix together bacon, green onions, and cheese.


Sprinkle mixture inside skins. Bake 2 minutes longer or until cheese is melted.
Per Serving: Calories 79, Calories from Fat 25%, Fat 2g, Saturated Fat 1g, Cholesterol 7mg, Sodium 155mg, Carbohydrates 11g, Dietary Fiber 2g, Total Sugars 2g, Protein 4g, Dietary Exchanges: 1 starch, 1/2 lean meat
Building On Basics Chapter In KITCHEN 101 Cookbook
Who doesn't like burgers, tacos, potatoes and pizza?  This delicious and diabetic Sweet Potato Skins recipe is from the Building On Basics Chapter in Holly Clegg's easiest cookbook, KITCHEN 101.  There is even a chapter that gives you healthier options for some of your favorite junk food!
We think of potato skins when watching football but remember these wonderful pick ups year round.  .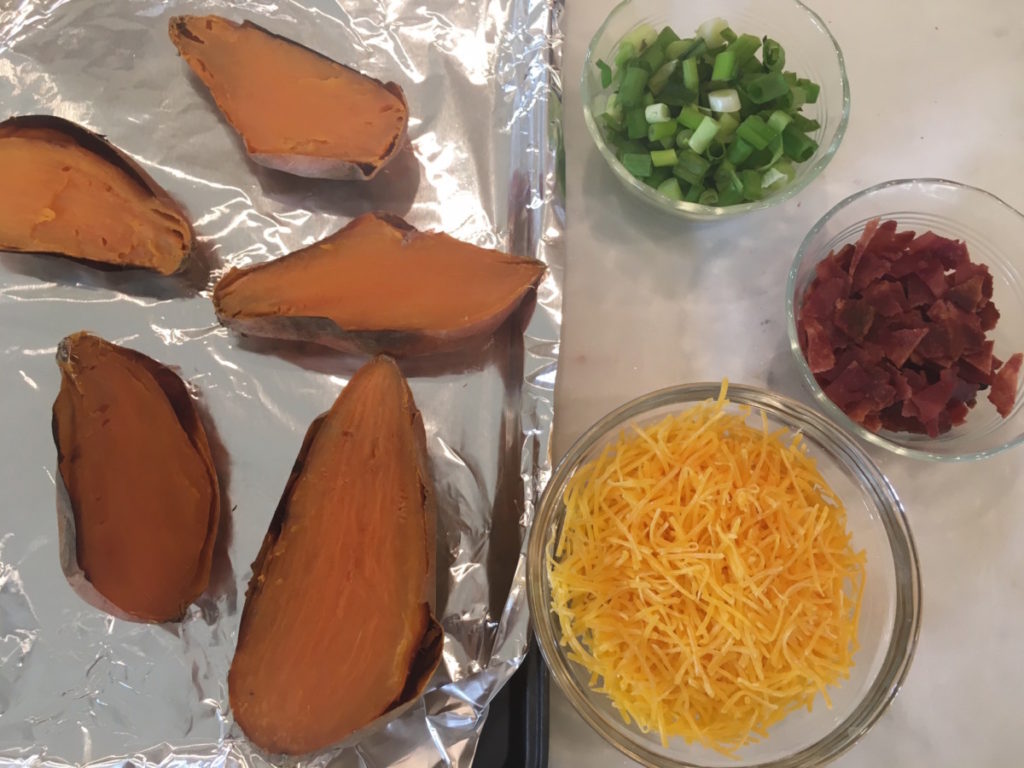 Healthy Sweet Potato Skins Nutritious, Fabulous and Flavorful Sweet Potato Appetizer
What makes these sweet potato skins healthy? Sweet potatoes are a complex carbohydrate, good source of fiber; and they also fight inflammation as their orange color is from the Carotenoid antioxidant which turns into Vitamin A. Besides, they are moist, naturally sweet and delicious!
Sweet potatoes are also low in fat and sodium, and a good source of Vitamins C and E! This is a diabetic sweet potato skins recipe and check out these other delicious healthy sweet potato recipes! Holly's arthritis cookbook includes so many good sweet potato recipes also because they are such a good source of antioxidants.
What To Do with The Extra Sweet Potato Pulp from The Sweet Potato Skins Recipe
When preparing this healthy sweet potato skins recipe – don't let the extra pulp go to waste! Make mashed sweet potatoes by mixing in skim milk, sour cream, salt and pepper and maybe a dash of cinnamon for a yummy side dish another day. You could also use the extra mashed sweet potatoes in Holly's Yummy Yam Coffee Cake or the best Crawfish and Sweet Potato Bisque recipe. 
Do you have a potato masher? Everyone needs this simple kitchen gadget to mash potatoes or sweet potatoes. After you make the sweet potato skins you can mash the pulp for so many different recipes.
A potato masher is important because if you beat the potatoes in a mixer they can become starchy so this is really a useful kitchen tool!
Get Top 25 FAST & FABULOUS FOOTBALL TAILGATING RECIPES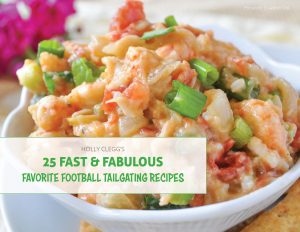 You will love Holly's 25 Favorite Football Tailgating Recipes available for only $1.99! Included are dips, pick-ups, hearty food and the best of Holly's sweet treats.  Best of all, it comes with a SHOPPING LIST so all the work is done for you from your menu to your grocery run.
Healthier and EASY-TO-MAKE recipes with the nutritional information.  If you have health concerns, gluten-free and diabetic-recipes are highlighted.  DOWNLOAD  this great menu of party option.
Get All of Holly's Healthy Easy Cookbooks
The post Sweet Potato Skins Recipe Makes Best Football Party Appetizer appeared first on The Healthy Cooking Blog.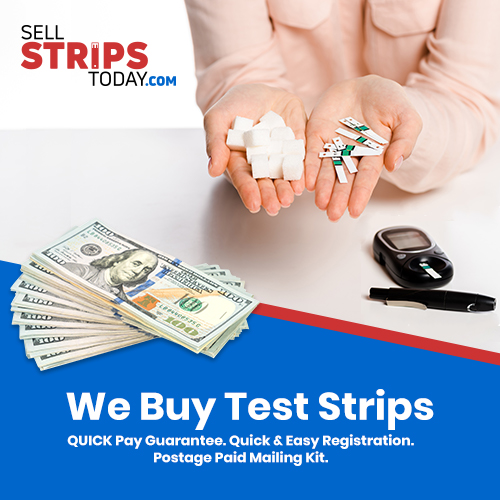 Sell Unused Diabetic Strips Today!