Heterogeneity of Diabetes
Current Classifications for Diabetes
Diabetes is a heterogeneous disease with varying manifestation and risk of complications (1). While diabetes is diagnosed on the basis of a single metabolite, glucose, hyperglycemia can arise due to multiple complex etiological processes that can vary between individuals (2). These processes influence the clinical characteristics, progression, drug response, and development of complications. Diabetes is therefore traditionally divided into different types (Fig. 1A). Type 1 diabetes (T1D) and latent autoimmune diabetes of the adult (LADA) both result from autoimmune destruction of β-cells, often, but not always, reflected by presence of pancreatic autoantibodies in the blood that can be used as a diagnostic marker (3). Identification of such antibodies is a strong indicator that the patient will eventually need insulin treatment to maintain glucose homeostasis (4). Rare monogenic diabetes types, such as maturity-onset diabetes of the young (MODY) and neonatal diabetes, account for about 3% of diabetes diagnosed in individuals <30 years of age. Diagnosis requires sequencing of known monogenic diabetes genes, and the consequences for those affected are life changing, since a correct diagnosis has major implications on choice of treatment (5).
After exclusion of these and a few other subtypes, such as diabetes secondary to steroid use, cystic fibrosis, and hemochromatosis, the remaining patients, 75–85%, are considered to have type 2 diabetes (T2D). Because autoantibodies are not always measured and genetic diagnostics are often not available, the T2D group may include patients with undiagnosed autoimmune or monogenic diabetes. While the two main types of diabetes have been recognized for thousands of years, the names and definitions have changed and there is still no clear-cut definition that will allow all patients to be classified as either T1D or T2D (2). Some patients show signs of both autoimmune destruction of β-cells and profound insulin resistance with features of the "insulin resistance syndrome." The large remaining group of true T2D is still highly heterogeneous with respect to clinical characteristics, progression, and risk of complications. Even before diabetes onset, the two prediabetes states, impaired glucose tolerance and impaired fasting glucose, only show partial overlap, suggesting they may result from different pathophysiological mechanisms (6). T2D is thus clearly a multifactorial disease with multiple underlying etiologies that results from the combined effects of numerous genetic and environmental risk factors (7,8).
Proposed Models of Heterogeneity Within T2D
The nature and origin of the heterogeneity in T2D has been discussed, contrasting a model where T2D is seen as a mixture of patients with homogeneous phenotypes and distinct mechanisms with a model that assumes that each patient develops diabetes due to a combination of many small defects in different pathways placing patients on a quantitative spectrum of metabolic disturbance (9,10). It is clear that the first alternative is an overly simplistic model, even for the division of patients into T1D and T2D, which has served the clinic well for a long time (11).
A version of the second alternative was described as the palette model (Fig. 1B), in which each pathway is imagined as a color and each patient given the hue of the combined pathways that are defective in that individual, which for most patients is assumed to be brown (10). As a strategy for personalized medicine, small archetypal groups dominated by one mechanism would be identified to study the mechanism in isolation. While this model fits well with the commonly held view of complex diseases, it does not offer many actionable new avenues for research or clinical implementation, and it does not recognize the easily measurable differences in clinical features between patients.
Instead, we propose an intermediary model (Fig. 1C), painting with a broader brush and colors that reflect major clinical parameters instead of individual molecular pathways. This model still assumes that diabetes is caused by many overlapping mechanisms, but it postulates that most patients have a predominant color and that dividing patients into shades of red, green, and blue is more useful and informative than thinking of them all as shades of brown, even if some have a muddled or intermediary color. Some mechanisms might play roles, to different extents, in all individuals with diabetes, but it seems reasonable to assume that different pathways dominate, or are even uniquely involved, in leaner patients with insulin deficiency and obese patients with severe insulin resistance and that studying them separately offers advantages similar to studying archetypal groups, with a trade-off of less specificity for larger, more inclusive groups.
Subclassification of Adult-Onset Diabetes
ANDIS (All New Diabetics In Scania) is a large diabetes cohort started in 2008, with the purpose of studying diabetes heterogeneity. ANDIS aims to include all newly diagnosed individuals with any type of diabetes in the Scania region in southern Sweden, within 1 year from diagnosis. To date, it includes >20,000 individuals representing >90% of newly diagnosed patients. At registration, two blood measurements are added to standard measurements: glutamate decarboxylase autoantibodies (GADA) and C-peptide.
In this cohort, we stratified adult individuals into subtypes using a data-driven approach based on the most relevant, easily available clinical variables for individuals with diabetes: GADA, BMI, glycosylated hemoglobin (HbA1c), age at diabetes onset, β-cell function (HOMA2-B), and insulin resistance (HOMA2-IR) estimated from fasting glucose and C-peptide (12). These variables were selected based on clinical experience and current knowledge of T2D, postulating that diabetes develops when insulin secretion fails to meet the demands of insulin resistance (2). Hyperglycemia can thus result from either a deficient insulin secretion, the extreme being T1D, or from severe insulin resistance, with T2D patients seen across this spectrum. Including key measures of the pathogenesis of diabetes, i.e., measures of insulin secretion and action in the definition of diagnosis therefore seems logical.
We applied two different methods for clustering (12). The first is TwoStep, which determines the optimal number of clusters based on silhouette width, followed by hierarchical clustering. In separate analyses for males and females, the optimal number of clusters was five, which was replicated in the Scania Diabetes Registry (SDR) cohort. One cluster was completely defined by GADA positivity and was therefore referred to as severe autoimmune diabetes (SAID). Using the k-means method, we could identify clusters of similar sizes with the same combination of clinical characteristics in four independent cohorts, including ANDIS and SDR.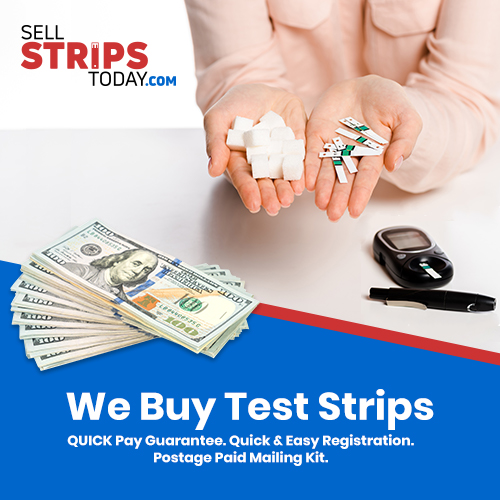 Sell Unused Diabetic Strips Today!