When Hannah was little we used to pick up McDonald's every once in a while.  I would order the 20 piece chicken nuggets knowing full well that Hannah would eat a few and I would eat the rest.  And I wonder how I got to 211 pounds!  These my friends are my grown up chicken nuggets.
They have cilantro, Parmesan cheese and since I love all things buffalo, Frank's hot sauce.
Every time I either air fry something, or pan fry something, someone always asks me "I don't have an air fryer, how else can I cook this recipe?" so I decided to do a taste test – I used my air fryer and pan fried some and decided which one was better.
These both cooked until they reached an internal temperature of 165 degrees.  Could I have air fried the chicken longer to get a darker, crunchier crust?  Probably.  But then the chicken would be overcooked and they would taste like ass.  In case you are wondering, the lower nuggets above were the air fried version.
Full disclosure:  the photo of the end product they were deep fried to save me time. 😁
Grown Up Chicken Nuggets
By adding cilantro, Parmesan cheese and Frank's hot sauce – these chicken nuggets are a grown up version of your childhood chicken nuggets.
1

pound

chicken breast

1/2

tsp

salt

1/2

tsp

pepper

1/4

cup

cilantro

1

tsp

minced onion flakes

1

tsp

garlic powder

1

tbsp

parmesan cheese

shredded

2

tbsp

Frank's hot sauce
For the Breading:
1/2

cup

self-rising flour

1/2

tsp

salt

1/2

tsp

pepper

1

tbsp

parmesan cheese

shredded
For the dipping station:
2

large

eggs

1/4

cup

unsweetened almond milk

1/4

tsp

pepper
In the food processor, pulse the chicken through Parmesan cheese until you get a chicken paste – just a bit more coarse than ground chicken. Form into chicken nuggets. Each chicken nugget was 1.2 ounces of chicken filling. I got 16 nuggets out of this recipe. Freeze on a cookie sheet for 15 minutes, flip, freeze 15 minutes more. Don't skip this step otherwise your nuggets will fall apart when you try to bread them.

Dip in egg mixture, then into flour mixture. Heat skillet over medium low heat and add a teaspoon of grapeseed oil for each serving of 4 nuggets. I add a point for the grape seed oil. Fry on all sides for about 6-7 minutes total, or until they reach an internal temperature of 165. Full disclosure, to make it go faster, the photo is a deep fried version, but since I fry at the right temperature, I only count 1 point for the oil in that version too.
The cilantro adds a nice herby punch, the hot sauce is spicy, but not too spicy and then you get that nutty saltiness from the Parmesan cheese. I bet your kids would love these!
To meal prep: After freezing for 30 minutes, place in a ziplock bag, then pull out however many you want and continue on with the steps above.
3 points for 4 nuggets, 4 for 8 nuggets 💜💙
6 points for 4 nuggets, 7 for 8 nuggets 💚
These were so good!  So flavorful and since I live alone, I ate one serving and froze the rest.   Cook once, eat all week!
If you are looking for my favorite air fried version of chicken nuggets, check out my copycat KFC nuggets.
Are there any childhood favorite recipes you grew up with that you would like me to try to recreate for you?  One dinner that always stands out that my Mom probably only made once was white bread topped with cooked bacon and mozzarella cheese that she put under the broiler – so good!
The bread was crispy on the outside, tender on the inside, and then the saltiness of the bacon #swoon.
Let me know if you try these grown up chicken nuggets!  Until next time: Be Kind, Be Fearless, Have Hope.
Love, Biz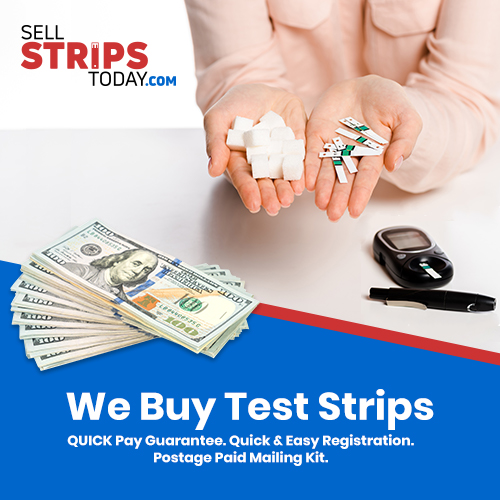 Sell Unused Diabetic Strips Today!