Abstract
NADPH facilitates glucose-stimulated insulin secretion (GSIS) in pancreatic islets (PIs) of β-cells through an as yet unknown mechanism. We found NADPH oxidase isoform 4 (NOX4) to be the main producer of cytosolic H2O2, which is essential for GSIS; an increase in ATP alone was insufficient for GSIS. The fast GSIS phase was absent from PIs from NOX4-null, β-cell–specific knockout mice (NOX4βKO) (though not from NOX2 knockout mice) and from NOX4-silenced or catalase-overexpressing INS-1E cells. Lentiviral NOX4 overexpression or H2O2 rescued GSIS in PIs from NOX4βKO mice. NOX4 silencing suppressed Ca2+ oscillations, and the patch-clamped KATP channel opened more frequently when glucose was high. Mitochondrial H2O2, decreasing upon GSIS, provided alternative redox signaling when 2-oxo-isocaproate or fatty acid oxidation formed superoxides through electron-transfer flavoprotein:Q-oxidoreductase. Unlike GSIS, such insulin secretion was blocked with mitochondrial antioxidant SkQ1. Both NOX4 knockout and NOX4βKO mice exhibited impaired glucose tolerance and peripheral insulin resistance. Thus, the redox signaling previously suggested to cause β-cells to self-check hypothetically induces insulin resistance when it is absent. In conclusion, increases in ATP and H2O2 constitute an essential signal that switches on insulin exocytosis for glucose and branched-chain oxoacids as secretagogues (it does so partially for fatty acids). Redox signaling could be impaired by cytosolic antioxidants; hence, those targeting mitochondria should be preferred for clinical applications to treat (pre)diabetes at any stage.
Introduction
Insulin, which is released from pancreatic β-cells, controls the blood glucose level in healthy individuals, and insulin release is impaired in those with diabetes (1–4). An understanding of the pathophysiology of the insulin release mechanism is indispensable for clinical innovation. The consensus mechanism of glucose sensing in pancreatic β-cells involves the elevation of ATP synthesis by mitochondria upon increased glucose metabolism enabled by the human GLUT1– or rodent GLUT2–mediated glucose uptake and fast glycolysis, which generates pyruvate, leading to ATP production by oxidative phosphorylation (OXPHOS) (1).
The increased ATP-to-ADP ratio in the subplasmalemmal cytosol in β-cells should cause the KATP channel to close (4–8), depolarizing the plasma membrane and activating voltage-gated L-type Ca2+ (CaL) channels. The resulting Ca2+ entry stimulates Ca2+-dependent exocytosis of the insulin-containing secretory granules (8).
Glucose-stimulated insulin secretion (GSIS) is facilitated by an increase in cytosolic NADPH (4,9–12), as various redox shuttles affecting metabolism generate cytosolic NADPH upon glucose intake, at the expense of NADH in the mitochondrial matrix (4,9–12). Also, the first enzyme of the pentose phosphate pathway, glucose-6-phosphate dehydrogenase (G6PDH), might contribute to the NADPH surplus upon GSIS (13–15). The resulting NADPH may be supplied to NADPH oxidase (NOX) isoforms 1 (NOX1) and 2 (NOX2) (16,17), but only if they are properly assembled. Nevertheless, the only constitutively expressed and assembled isoform is NOX4, and it is the only one that produces H2O2 directly (18,19). Inhibition of an unidentified NOX isoform was reported to attenuate GSIS when an antisense p47PHOX oligonucleotide (20), the nonspecific NOX (plus complex I) inhibitor diphenyleneiodonium (DPI) (21,22), or an inhibitor of two isoforms (23) was used. Hence, if any NOX isoform participates in GSIS, it must be definitively recognized.
Only reactive oxygen species (ROS) of mitochondrial origin, such as ROS resulting from the addition of mono-oleoyl-glycerol (23), have been suggested to modulate insulin secretion (24). An effect of antioxidants has been reported, with glutathione being decreased by diethylmaleate in INS-1(823/13) cells and acting as an unspecified link between GSIS and external H2O2 (25). However, it has never been considered that elevated ATP is insufficient for GSIS, nor that any redox signaling may be essential for GSIS. Thus, the elevation of the ATP-to-ADP ratio was thought to close KATP channels without any additional requirement for parallel redox signaling. A rather weak antioxidant defense and low redox buffer capacity, but high thioredoxin and peroxiredoxin content (26), provide an ideal, delicate ROS homeostasis in β-cells, although this homeostasis might be disturbed by a relatively weak insult and may spread within the cytosol (2,27).
This work revisited a mechanism of GSIS, and this article describes a novel mechanism of NOX4-mediated redox stimulation of insulin secretion, which, together with increased ATP, is essential for GSIS. Moreover, the absence of this redox signaling affects insulin sensitivity in peripheral tissues.
Research Design and Methods
Tests on Mice
Experiments were approved by the committee of the Institute of Molecular Genetics (Prague, Czech Republic) and complied with the 2010/63/EU directive (U.S. National Institutes of Health publication no. 85-23, revised in 1996) and the guidelines laid out in Animal Research: Reporting of In Vivo Experiments.
NOX4-null (knockout) (NOX4KO) mice were generated through targeted deletion of the translation initiation site and exons 1 and 2 of the gene (Research Resource Identifiers [RRID]: Mouse Genome Informatics [MGI]:4838554) (28,29). Control ("backcrossed") mice were obtained by intercrossing NOX4-null progeny with C57BL/6 mice for 10 generations. NOX2-null (knockout) (NOX2KO) mice were from The Jackson Laboratory (Bar Harbor, ME) (B6.129S-Cybbtm1Din/J, RRID:IMSR_JAX:002365).
The β-cell–specific NOX4KO (NOX4βKO) mouse was created by crossing NOX4Flox/Flox mice with B6.Cg-Tg(Ins2-Cre)25Mgn/J mice (RRID:IMSR_JAX:003573) (30,31). Tail genotyping selected congenic NOX4Flox+/+Cre+/+ (B6.Cg-Nox4<tm1Ams>Tg[Ins2-cre]25Mgn) mice (NOX4βKO). NOX4 deletion, specifically in mouse β-cells, was verified (Supplementary Fig. 3A and B). At least 64% of β-cells exhibited the β-knockout alleles (∼80% of the β-cell fraction of pancreatic islet [PI] cells). Peripheral insulin resistance was evaluated as described by Alán et al. (32).
An intraperitoneal (i.p.) glucose tolerance test and a parallel insulin assay were performed after the i.p. injection of glucose (1 mg/g body weight; ∼111 μmol glucose per mouse) into mice deprived of food overnight. Blood was taken from a blood vessel in the ocular plexus. Tests were also performed with 2-oxoisocaproate (OIC) (1 mg/g body weight; ∼153 μmol OIC per mouse). Blood glucose was determined with a glucometer (Roche, Basel, Switzerland); insulin was determined with an ELISA kit (Mercodia, Uppsala, Sweden). Samples were taken at two or three time points for both insulin and glucose estimates from each mouse. Mean data from 10–27 mice (sex is specified in the various figure legends) enabled the construction of time dependencies.
Pancreatic Islet Isolation and Perifusion
Two male and two female mice with each genotype were anesthetized. The pancreases were digested with collagenase, and the PIs were isolated subsequently on a Ficoll gradient (33). The yield was 100–200 islets per mouse.
Dynamic insulin release from PIs was determined by using perifusion. Approximately 100 islets were placed in a column with a flow adaptor (1 × 7 cm Econo-Column; Bio-Rad, Hercules, CA) attached, and the islets were immobilized with Bio-Gel P4 (Bio-Rad). PIs were washed for 60 min in a continuous flow of glucose-free Krebs-Ringer HEPES (KRH) buffer (135 mmol/L NaCl, 3.6 mmol/L KCl, 10 mmol/L HEPES, 0.5 mmol/L MgCl2, 1.5 mmol/L CaCl2, 0.5 NaH2PO4, 0.1% BSA [pH 7.4]). Insulin secretion was stimulated with KRH buffer containing stimulatory compounds. The perfusate was collected at rates of 0.5 ± 0.1 mL/min. Insulin was detected with an Insulin Mouse ELISA High Sensitive kit (BioVendor, Brno, Czech Republic). Islets were lysed, and their DNA content was quantified by using a PicoGreen Assay (Thermo Fisher Scientific, Eugene, OR).
NOX4 Overexpression by Using Lentiviral Particles
PIs were seeded on laminin-covered 96-well plates (BioLamina, Stockholm, Sweden). NOX4 was overexpressed in PIs isolated from control (NOX4Flox/Flox) and NOX4βKO mice by using 72-h lentiviral transduction with LentiORF particles (OriGene, Rockville, MD) that contain pLenti-C-mGFP as a control, or pLenti-mouse NOX4-C-mGFP for NOX4 overexpression. Insulin release was assayed after 6 min.
Cell Cultivation and Transfection
Rat insulinoma INS-1E cells (C0018009; AddexBio, San Diego, CA) (31) were routinely cultivated with 11 mmol/L glucose in RPMI 1640 medium supplemented with 10 mmol/L HEPES, 1 mmol/L pyruvate, 5% (v/v) FCS, 50 μmol/L mercaptoethanol, 50 IU/mL penicillin, and 50 μg/mL streptomycin. The 1- and 15-h incubations were also performed with 3 mmol/L glucose (34).
Cells were transfected twice in 24 h with Oligofectamine (Thermo Fisher Scientific) with two predesigned Ambion siRNAs against rat NOX4 (exons 14 and 10; Thermo Fisher Scientific) in a serum- and antibiotic-free medium. Their 5′ to 3′ sequences were CCGUUUGCAUCGAUACUAATT and CAUUAUCUCAGUAAUCAAUTT. Also, different pairs of predesigned Ambion siRNAs against rat SUR1 (Abcc8), G6PDH, and branched-chain α-ketoacid dehydrogenase (BCKDH) complex E1α (Thermo Fisher Scientific) were used. The pZeoSV2(+) vector encoding human catalase (donated by C. Glorieux, Université Catholique de Louvain, Belgium) was also used for transfection (2.5 mL lipofectamine/mg DNA; Thermo Fisher Scientific).
Insulin Release from Cells
One day before 48-h transfections, cells were seeded (0.2 × 106 cells/well) in 12-well plates coated with poly-l-lysine. Insulin was assayed in KRH (with or without 2 mmol/L glutamine) by using a Rat Insulin ELISA Kit (U-E type; Shibayagi Co., Shibukawa, Japan) after a 5-min preincubation phase before glucose (25 mmol/L) was added.
Cell Auxiliary Assays
H2O2 monitoring with TCS-SP2 or TCS-SP8 confocal microscopes (Leica) used an overexpressed H2O2-selective fluorescent protein, either HyPer-C (35) or heat shock protein–fluorescence resonance energy transfer (HSP-FRET) (36). A sample chamber (37°C) was supplied with 5% CO2. INS-1E cells were transfected with an X-tremeGene DNA reagent (Roche), and the coexpression of NOX4 siRNAs was facilitated by using Lipofectamine 2000 in a serum-free and antibiotic-free medium for 24 h. An ATP Bioluminescence Assay kit HS II (Roche) was used to quantify ATP.
Monitoring of Cell K+ and Ca2+ Influx
A FluxOR Potassium Ion Channel Assay (Thermo Fisher Scientific) was used to assay Tl+ influx rates. INS-1E cells were preloaded with a "stimulus buffer" containing Tl+. The emission of FluxOR was monitored at 525 nm on an RF5301 spectrofluorometer (Shimadzu). Fluorescent Ca2+ in the cell cytosol was monitored with Fura-2.
Cell Patch Clamp Recording
Patch pipettes made of borosilicate glass (Harvard Apparatus, Kent, U.K.), with a resistance of 15–20 mol/LΩ, were filled with an isotonic solution (150 mmol/L KCl, 10 mmol/L HEPES, 1.2 mmol/L CaCl2 [pH 7.2]). Cells were incubated in a solution without glucose (134 mmol/L NaCl, 6 mmol/L KCl, 10 mmol/L HEPES, 1.2 mmol/L MgCl2, 1.2 mmol/L CaCl2 [pH 7.2]) for 2 h. Single-channel currents with no glucose (130 mmol/L KCl, 20 mmol/L HEPES, 10 mmol/L EGTA, 4 mmol/L MgCl2, 2.4 mmol/L CaCl2 [pH 7.15]) were recorded in the cell-attached mode with an EPC-7 amplifier (HEKA Electronics, Lambrecht, Germany); these currents were low-pass filtered at a corner frequency of 0.5 kHz and sampled at a frequency of 2.5 kHz by using Clampex software version 9.2. Analyses were done in Clampfit software version 9.2 (Axon Instruments, Foster City, CA).
Statistical Analysis
Biological (N) and experimental (n) replicates are listed. ANOVA (t test) used the Tukey and Holm-Sidak tests (for P values, see the Supplementary Material) on the prevalidated data (normality test). Calculations were performed in SigmaStat software version 3.1 (Systat Software, San Jose, CA).
Data and Resource Availability
Data are available from the corresponding author upon request.
Results
Discussion
Article Information
Acknowledgments. The authors thank Keith D. Garlid (Portland State University, Portland, OR) for providing fruitful discussion; Mark A. Magnuson (Vanderbilt University), C. Glorieux, and J.B. Verrax (Université Catholique de Louvain, Belgium) for donating plasmids; Dr. Radislav Sedláček and Dr. Inken Beck for providing the GMO mice facility (IMG and Czech Centre for Phenogenomics, Biocev, Prague, Czech Republic) for housing our mice; and all colleagues from the Institute of Physiology, Prague, such as Jitka Špačková for providing help designing the siRNA, Pavla Průchová for help with islet perifusion, Hana Engstová for analyzing images, and Jan Krůšek for monitoring calcium. The authors also thank Tomáš Špaček and Lenka Josková for providing excellent technical assistance with cell cultivation, Jana Vaicová with insulin assays, and Ludmila Šimečková with mice experiments.
Funding. The project was supported by the Grantová Agentura České Republiky (grant 16-06700S to L.P.-H. and grants 20-00408S and 17-01813S to P.J.) and by the Czech government's support (RV0:679885623) to the Institute of Physiology, Prague, Czech Republic.
Duality of Interest. No potential conflicts of interest relevant to this article were reported.
Author Contributions. L.P.-H., M.J., B.H., J.T., V.P., and D.S. performed the investigations. L.P.-H., M.J., B.H., Z.B., M.C., and D.S. developed the methodology. L.P.-J., B.H., K.S., and R.P.B. provided resources. L.P.-H., B.H., and P.J. validated the data and handled project administration. L.P.-H. and P.J. conceptualized and supervised the study and acquired funding. P.J. formally analyzed and curated the data, wrote the first draft of the manuscript, reviewed and edited the manuscript, and provided visualizations. P.J. is the guarantor of this work and, as such, had full access to all the data in the study and takes responsibility for the integrity of the data and the accuracy of the data analysis.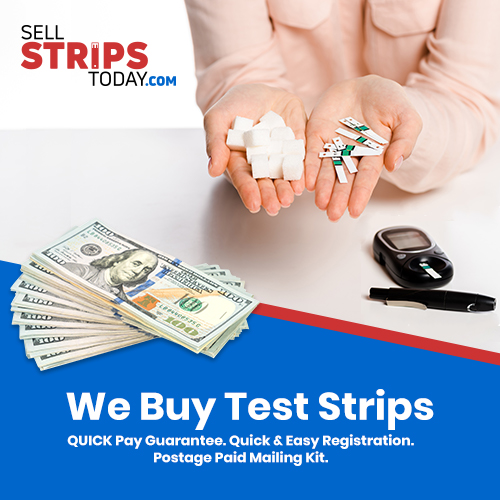 Sell Unused Diabetic Strips Today!