Corn on the Cob Makes BEST Summer Vegetable Recipes
Is there anything better than crisp summer vegetable recipes on a warm day? This fresh Corn Salad recipe from Guy's Guide to Eating Well cookbook will be one of your favorite summer easy corn salad recipes. If you only eat corn on the cob and don't use it in recipes, you are missing out!  Sweet summer fresh corn on the cob as an ingredient in easy summer salad recipes is amazing. Honestly, there isn't much to it and it's really is quick to do. Just get a sharp or serrated knife and scrape the corn off the cob lengthwise or check out the gadgets below that make it even easier.
Corn, Cucumber, and Tomato Salad
A bullet-proof, fresh and tasty recipe with crunchy cool cucumbers, ripe juicy tomatoes, creamy avocados and corn. An easy nutrition-loaded side dish to any meal.
Vegetarian, Diabetic, Gluten Free
Servings
5
2/3-cup servings



1

cup





corn




1

cup





peeled chopped cucumber




1

cup





chopped tomatoes




1/4

cup





chopped red onion




1/4

cup





chopped avocados




2

tablespoons





lime juice




1

tablespoons





nonfat plain Greek yogurt




1/4

cup





chopped avocados




2

tablespoons





lime juice




1

tablespoons





nonfat plain Greek yogurt
In large bowl, combine corn, cucumbers, tomatoes, onion, and avocado.

In small bowl, combine lime juice and yogurt. Drizzle over salad. Refrigerate.
Calories 53, Calories from Fat 24%, Fat 2 g, Saturated Fat 0 g, Cholesterol 0 mg, Sodium 10 mg, Carbohydrates 10 g, Dietary Fiber 2 g, Total Sugars 4 g, Protein 2 g, Diabetic Exchanges: ½ starch, ½ fat
Serving Suggestion: Pairs perfectly with grilled or baked fish on a warm summer day.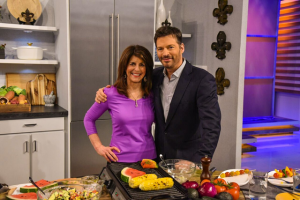 Harry Connick Jr LOVED this Fresh Corn Salad On The Harry Show
When Holly was deciding what to prepare for her appearance on the Harry Connick show, she knew anyone can create this summer masterpiece by tossing the fresh produce into a bowl.  Holly put Harry Connick to work and made him whisk together the light dressing and he loved it. It really is simple to do and nothing beats fresh summer grilled corn in recipes.
This refreshing Corn, Cucumber and Tomato Salad from Guy's Guide to Eating Well cookbook is just one of the summer vegetable recipes Holly prepared on The Harry Connick Show cooking segment. You can make it year round, but fresh corn recipes are especially good in the summer.  This men's health cookbook is full of realistic, approachable recipes any man (or woman!) can cook and will love to eat.
Throughout the book, Holly provides delicious good-for-you recipes and it is divided into chapters that focus on common men's health concerns, such as Heart Disease, Obesity-Diabetes,Weekend Warrior Arthritis, and Cancer with realistic simple preventive healthy recipes.
Corn Gadgets To Make Fresh Corn Salad
 Chef'n Cob Corn Stripper, Yellow
 Kuhn Rikon Corn Zipper
 Kernel Kutter (Sweet Corn Cutter, Stripper) with Bit
 Corn Stripper, EverPlus Corn Cob Cutter Corn Peeler
Left Over Ears of Corn Turn Into Easy Corn Salad Recipes
You can add your favorite garden ingredients to Holly's recipe!  There is only a little lime juice and olive oil to coat the salad. Season to taste and enjoy these wonderfully fresh summer ingredients that make a summer statement.
You can make this fresh corn salad recipe easily with frozen corn but I promise this time of year treat yourself to fresh. It does make a difference. You'll always cook extra for these easy corn recipes throughout the summer because it is so sweet this time of year!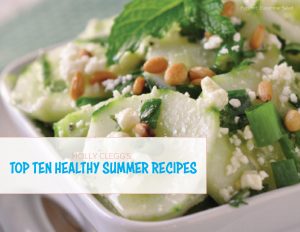 For even more of the BEST Summer recipes you have to check out Holly's Download only 99 cents! Simplify summer with Holly's top healthy summer recipes with a shopping list plus tips and hints. It can be overwhelming what to cook so these quick summer recipes will guide you in the kitchen from appetizer to dessert.
Download it now for only 99 cents and you will have all you need to refresh your healthy summer menu at your fingertips!
Get All of Holly's Healthy Easy Cookbooks
The post Fresh Corn Salad Recipe – Best Easy Summer Vegetable Recipes appeared first on The Healthy Cooking Blog.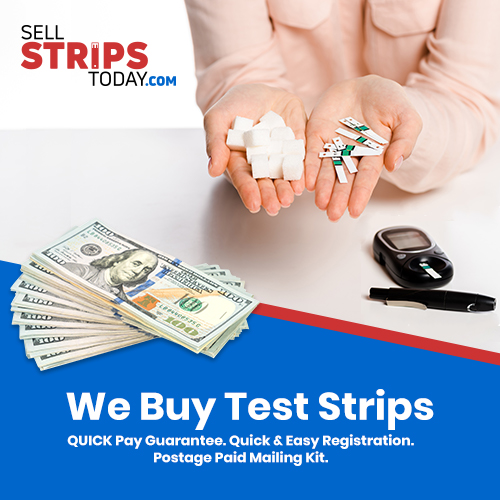 Sell Unused Diabetic Strips Today!