Easy Crawfish Bisque Recipe with Sweet Potatoes Unbelievably Simple & Flavorful!
This easy crawfish bisque recipe pops up as one of Holly's most requested best crawfish soup recipes.  This amazing easy crawfish recipe made the list of  easy crawfish recipe favorites. A simple soup with crawfish, sweet potatoes, seasonings, molasses and curry makes an unbeatable combination. A touch of sweetness and heat. Everyone raves about this delicious creamy, crawfish soup recipe from Holly Clegg's trim&TERRIFIC Gulf Coast Favorites cookbook and it tops healthy Cajun recipes!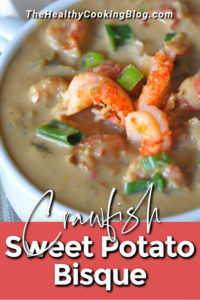 Louisiana Crawfish Is Healthy and Great To Use in Recipes
You don't need to give up Louisiana crawfish recipes to eat healthy. In fact, did you know Louisiana crawfish is healthy?  This crawfish bisque is made differently than the traditional recipe with crawfish stuffed heads in a gumbo-base soup.  You'll find the flavor extraordinary and this one pot soup simple to make. This savory, sensational soup is also a diabetic crawfish bisque recipe!  Cooking healthy includes all your favorite Louisiana recipes.
Easy Crawfish Bisque Recipe Options
This easy crawfish bisque recipe has lots of versatility to fit your family.  You can use fresh or frozen crawfish tails. Look for a package of Louisiana crawfish tails in your seafood market or freezer section.  If you aren't from Louisiana, you might think we actually sit there and peel the crawfish to get the tail meat. Look for Louisiana crawfish tails as crawfish outside of the United States are not up to our standards!  Now, sometimes after a crawfish boil, someone helps peel extra crawfish tails for us. Those are the best!
Diabetic Crawfish Bisque Recipe
This satisfying sweet potato based soup with a hint of sweetness and touch of curry highlights Louisiana crawfish with a pleasing, unbeatable flavor. Best of all, it is a diabetic crawfish recipe.  Holly specializes in healthy Cajun recipes and even have the most popular healthy Crawfish Etouffee recipe ever! Sweet potatoes boost the flavor but also the nutritional value of this crawfish soup. This creamy crawfish bisque recipe is a source of fiber and low in calories. This recipe and so many others you'll find in Holly Clegg's Gulf Coast Favorites Cookbook.
CRAWFISH AND SWEET POTATO BISQUE
This satisfying sweet potato based soup with a hint of sweetness and touch of curry highlights crawfish with a pleasing and unbeatable flavor.



1

tablespoon





olive oil




1

cup





chopped onion




1

cup





chopped green bell pepper




1

cup





chopped celery




1

teaspoon





minced garlic




1/3

cup





all-purpose flour




1/8

cup





molasses




1/2

teaspoon





ground curry powder




4

cups





fat-free chicken broth




1

cup





can sweet potatoes

drained, or 1fresh sweet potatoes, cooked, mashed, 15-ounce




1/2

cup





fat-free Half & Half




1

pound





Louisiana crawfish tails

drained and rinsed (love this expandable colander)






Hot sauce to taste






salt and pepper to taste
In a large nonstick pot coated with nonstick cooking spray, heat oil, sauté onion, green pepper, celery, and garlic until tender for about 7-10 minutes.

Stir in flour, stir one minute and add molasses, curry, chicken broth, and sweet potatoes. Bring to a boil.

Reduce heat and cook 10-15 minutes and stir occasionally. Add Half & Half and crawfish, hot sauce and season to taste. Continue cooking 5 more minutes or until heated thoroughly
Nutritional information: Calories 189, Calories from fat (%) 13, Fat (g) 3, Saturated Fat (g) 0, Cholesterol (mg) 78, Sodium (mg) 300, Carbohydrate (g) 27, Dietary Fiber (g) 3, Sugars (g) 8, Protein (g) 14, Diabetic Exchanges: 1 1/2 starch, 1 1/2 very lean meat
Terrific Tip: Bisque is a thick, creamy, rich soup and don't let the name intimidate you. I can't wait for you to try my easy crawfish bisque recipe.
Rinse and Drain Crawfish Tails!  You'll Love This Colander!
2 Pack Collapsible Colanders Set, Silicone kitchen Strainer Space-Saver Folding Colander, Dishwasher Safe
Why is this colander so great? You will absolutely love these expandable colanders for several reasons. First, these colanders are easy storage. Second, they don't take up much space. People say all the time they don't have enough room for all their kitchen gadgets.
These silicon colanders
are lighter and easier to use. Team Holly highly recommends this colander or any expandable colanders for your kitchen. They are dishwasher safe and you will like to have two size options.
Get All of Holly's Healthy Easy Cookbooks
The post Easy Crawfish Bisque Recipe with Sweet Potatoes – Extraordinary Flavor! appeared first on The Healthy Cooking Blog.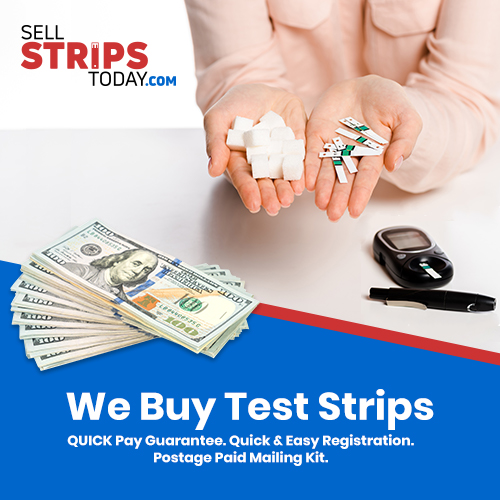 Sell Unused Diabetic Strips Today!