Best Cookie Swap Cookies For Christmas: Cranberry White Chocolate Bars!
Seasonal ingredients are the best and Holly's Cranberry White Chocolate Bars make the best Christmas cookies. If you are invited to a holiday party or need some new cookie swap ideas look no further? You probably don't have an extra minute in the day so here is the holiday cookie solution with Holly's best cookie swap cookies. They are also called Magic Cranberry Bar cookies and that's because they disappear off the plate!  With dried cranberries, white chocolate chips and pecans, it doesn't get much better.  Except, they take only about 5 minutes to make!  These festive cranberry white chocolate recipe is from Holly's fun cookbook, Too Hot in the Kitchen with trendy, simple healthy easy recipes. Love to make homemade Christmas gifts.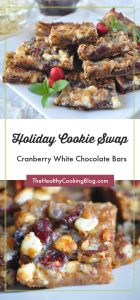 Cranberry White Chocolate Bars
Holiday ingredients for easy festive cranberry bar cookies. Tart cranberries, sweet white chocolate, the spice of ginger and nuts pack this delicious dessert with wholesome vitamins and minerals – perfect to indulge in while staying fit this holiday season. And, this recipe is also diabetic-friendly!! I like bar cookies as they are made in one pan and you are done! In fact, I think I make so many pans of this recipe during the holiday season because they are the perfect holiday bars!




1 1/2

cups





gingersnap crumbs




6

tablespoons





butter

melted




1

teaspoon





vanilla extract




1/2

cup





dried cranberries or craisins




1/3

cup





white chocolate chips




1/3

cup





chopped pecans




2/3

(14-ounce) can





fat-free sweetened condensed milk
Preheat oven 350° F. Coat 13x9x2-inch pan with nonstick cooking spray.


In prepared pan, mix gingersnaps, butter, and vanilla; press into pan.


Sprinkle cranberries, white chocolate chips, and pecans evenly over gingersnap crust. Drizzle sweetened condensed milk over top. Bake 15-20 minutes or until bubbly and light brown.
Per Serving: Calories 57 Calories from fat 42% Fat 3g Saturated Fat 1g Cholesterol 4mg Sodium 34mg Carbohydrate 8g Dietary Fiber 0g Sugars 6g Protein 1g Dietary Exchanges: 1/2 other carbohydrate, 1/2 fat
Simple To Make with Holiday Ingredients for Best Cranberry White Chocolate Cookies Recipe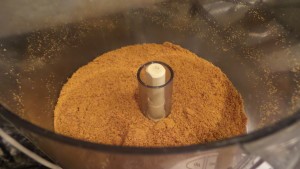 Start with gingersnaps which are easy to find this time of year. Crush them in the food processor but you can do it however you want. These gingerbread snaps form your crust.
Next step is to combine the ginger snap crumbs with butter and then sprinkle with the cranberries, white chocolate, and pecans. Then, drizzle the fat-free sweetened condensed milk on top and you're ready to bake.
Layer ingredients in the pan and drizzle with sweetened condensed milk.  Pop in the oven and that is it!
Best Cookie Swap Cookies Recipe Also Makes Perfect Holiday Homemade Gifts
Turn to this favorite cranberry white chocolate bar recipe for friends and family this time of year. For a quick and delicious gift, just cut the cranberry cookie bars into squares, wrap with plastic wrap and tie with a holiday ribbon. From teachers to coaches, neighbors to doctors, give the delicious gift of nutrition this holiday season! If you have had Hello Dollies, then these cranberry bar cookies are the holiday version with cranberries, white chocolate, pecans and gingersnaps.
Holly has lot of cookbooks but honestly, people who have Too Hot in the Kitchen cookbook say it is their favorite cookbook. Probably because the recipes are a little more trendy and the chapters are just so great! From Easy Entertaining to Quickies!
These fabulous Cranberry White Chocolate Bars are from the Easy Entertaining Chapter. The flavor and ingredients are the essence of this time of year.  You can literally find all kinds of simple entertaining recipes in this chapter and you probably already have the ingredients in your pantry.
Excited To Find Reduced Sugar Craisins for Cranberry White Chocolate Bars
These Ocean Spray reduced sugar craisins (dried cranberries) are fabulous!! Best all, you cannot taste any difference so they were just as tasty but better for you.  In all of Holly's recipes that call for dried cranberries, use the reduced sugar craisins.  Why not? You should be able to find them in any grocery store.  They still provide 25% of your daily recommended fruit needs and are an excellent source of fiber. You'll love these cranberry bar cookies with these craisins and besides, this is a diabetic cranberry cookie!  Amazing, simple to make, festive and diabetic make them the overwhelming best cookie swap cookie recipe.
Freeze Fresh Cranberries when in Season – You Can Always Substitute Dried Cranberries
Buy fresh cranberries when in season and freeze in freezable plastic bag for one year to have fresh cranberries year round.  If a recipe calls for fresh cranberries, dried cranberries may be used.  Two top seasonal recipes taking advantage of fresh cranberries are the simple Cranberry Lemon Bundt cake and Cranberry Orange Muffins . Both make great gifts or to keep around your house during the holiday season.
The holidays are here and you need Holly's 12 Ideas for Christmas Foodies. From evening appetizers to teacher gifts, even – what to cook Christmas morning, these festive favorite recipes are Holly's go-to dishes that will get you through all of the parties and last-minute family get-togethers this December.  No need to stress with what to make this holiday season – let Holly do it for you with her December favorites!
The Best Kitchen Gadgets List!
Top 12 Favorite Kitchen Gifts
Have you started making you holiday to-do list but it has you wondering what to give for a gift? Look no further than Holly's Christmas wish list of favorite and 12 top unique kitchen gadgets!
From an inexpensive mini spatula perfect for bar cookies to my pricey coffee maker which truly makes the best coffee, the research is done for you. LOVE the silicon bakeware and kitchen tools. Once you use them, you will understand why.
Another Favorite Bar Cookie For Best Cookie Swap Cookies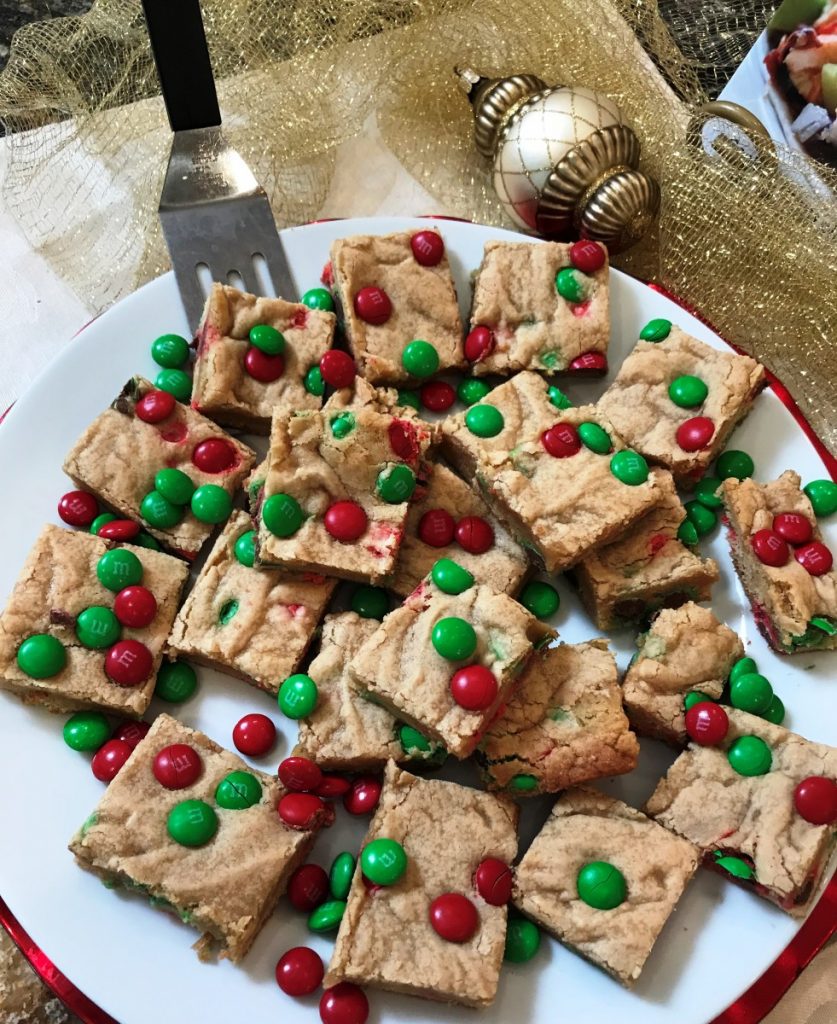 White Chocolate Recipes Make Sensational Seasonal Holiday Recipes
Who doesn't like a dessert that is made with white chocolate?  Hard to beat a white chocolate dessert! If you like this cranberry white chocolate holiday treats, wait until you try Holly's fabulous White Chocolate Cheesecake from Gulf Coast Favorites cookbook or Chocolate Truffles with White Chocolate.
Favorite Mini Spatula Perfect For Bar Cookies
Favorite mini spatula because it is the perfect size for bar cookies.  Holly's Blonde Brownies made with Holiday M&M's are another great Christmas bar cookie.  Perfect for the spatula!  Holly discovered this amazing little kitchen tool while doing The 700 Club on her Cancer cookbook. In the make up room, someone was selling Pampered Chef so she wanted to see what everyone was buying. She bought this miniature spatula and it's the perfect size to get bar cookies.
Get All Holly's Healthy Easy Cookbooks
The post Cranberry White Chocolate Bars Top Best Cookie Swap Cookies for Christmas appeared first on The Healthy Cooking Blog.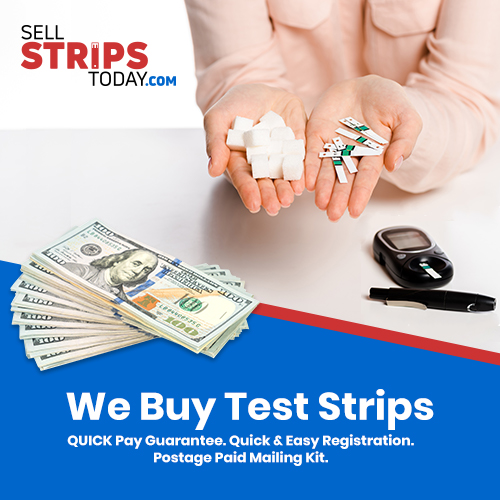 Sell Unused Diabetic Strips Today!