How To Make Quick Chicken Dinner
If you like chicken fajitas, then you'll love easy Chicken Fajita Pizza recipe from KITCHEN 101. Everywhere you look diets are telling you what not to eat.  When you stick with Holly's Trim and Terrific recipes you will find that you don't have to give up anything because there are all of your favorite foods in her cookbooks. Would you believe this is a diabetic chicken fajita pizza recipe!? Pizza, burgers, fries and cheesecake you can have it all, because Holly trims the recipes down and keeps them terrific. Everyone is busy and doesn't have time to cook, however, these really are healthy easy recipes. Try cooking trim&TERRIFIC recipes year round and enjoy pizza too!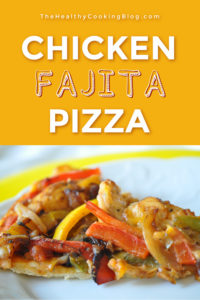 KITCHEN 101 Makes Great First Cookbook
Not only will this recipe excite your family, but it is perfect for college cooking or first kitchen cooks.  No intimidation here! All of these recipes for eating healthy include everyday ingredients making them easy enough for the new cook. Lots of people just don't like to cook and KITCHEN 101 simplifies cooking! Now, you never have to order out again.  Best of all this is a diabetic chicken pizza recipe so this easy diabetic recipe is delicious and good for you!
This quick dish is simple enough to please the kids while still satisfying the adults.



1

pound





skinless

boneless chicken breasts, cut into strips




1

teaspoon





chili powder






salt and pepper to taste




1/2

teaspoon





garlic powder




1





medium onion

thinly sliced




1





green bell pepper

cored, thinly sliced into strips




1

10-ounce





can prepared pizza crust or Boboli crust




1/2

cup





picante sauce




1

cup





shredded reduced-fat Monterey Jack cheese
Preheat oven to 425˚F. Coat pizza pan with nonstick cooking spray

In large skillet coated with nonstick cooking spray, sauté chicken over medium heat until done, 7-10 minutes. Stir in chili powder, salt, pepper, and garlic powder. Add onion and green pepper, cooking until vegetables are tender, another 3 minutes.

Unroll dough, and place in prepared pan. Starting at center, press out dough with hands. Bake 6-8 minutes, or until light golden brown.

Remove from oven, spoon chicken mixture over partially baked crust. Spoon picante sauce over chicken, sprinkle with cheese. Return to oven, bake 10-12 minutes, or until crust is crisp.
Nutritional information per serving Calories 214, Protein (g) 21, Carbohydrate (g) 21, Fat (g) 5, Calories from Fat (%) 20, Saturated Fat (g) 2, Dietary Fiber (g) 2, Cholesterol (mg) 41, Sodium (mg) 471 Diabetic Exchanges: 2.5 lean meat, 1 starch, 1 vegetable
Serving Suggestion: This is a complete meal… add a salad for extra veggies. Terrific Tidbit: If you don't have a pizza cutter, try using kitchen scissors to cut your pizza instead.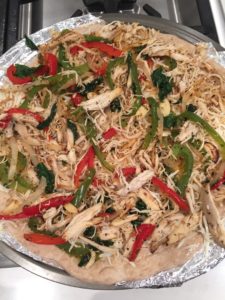 Diabetic Chicken Recipe
There is a PIZZA CHAPTER in KITCHEN 101  – and kids and adults come running!  This recipe will have everyone thinking you are a gourmet cook, but your secret is safe.  Quick and easy! Simply pick up a can of refrigerated pizza dough and rotisserie chicken from the grocery.
KITCHEN 101 highlights easy diabetic recipes with a "D." Eat with color and you're including nutrition.  This diabetic recipe has a great assortment of favorite fresh veggies and feel free to add extra veggies to any recipe for added nutrition.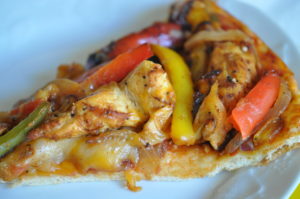 Love A Good Pizza Cutter!
 OXO Good Grips 4-inch Wheel and Cutter

 Kitchy Wheel

 Premium Cutter by Checkered Chef –

 Deluxe Professional Cutter Wheel

 Cutter Wheel Stainless Steel

Everyone Needs A Pizza Pan
 Cuisinart Chef's Classic Nonstick 14-In Pan

 ProBake Teflon Platinum Non-Stick Pan, 16

 Cast Iron Pan- 14 Inch

Get All of Holly's Healthy Easy Cookbooks
The post Chicken Fajita Pizza Recipe-Easy Delicious Diabetic Chicken Pizza appeared first on The Healthy Cooking Blog.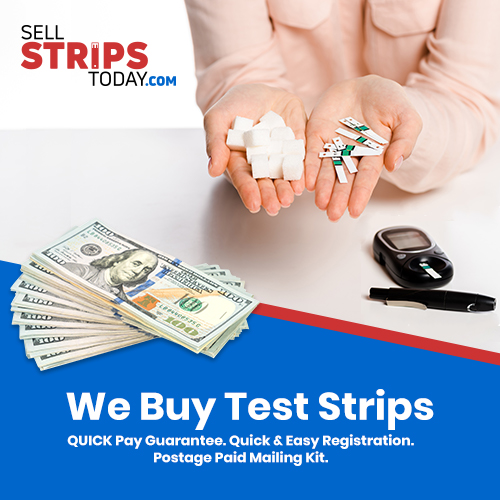 Sell Unused Diabetic Strips Today!