Healthy Easy Weeknight Dinner Blackened Chicken Recipe
Are you are looking for a new healthy chicken recipe to add to your nightly meal plan? Look no further than the trim and terrific Cajun Blackened Chicken recipe from Holly Clegg's Gulf Coast Favorites cookbook! This healthy easy recipe does not disappoint. If you are not familiar with Blackening, it refers to the cooking method of using a hot skillet to produce a slightly burnt-looking, dark-brown exterior to your food with a moist interior. It originated from Chef Paul Prudhomme's New Orleans restaurant and blackening has since become a favorite prepared worldwide. Blackening is a quick way to keep your food moist and juicy. This blackened chicken breast recipe will be a family favorite.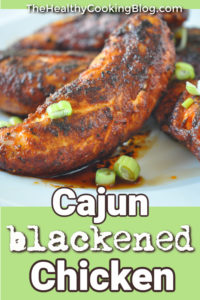 One of our family favorites!  You can just make the blackened chicken breast recipe with or without the sauce.




2

tablespoons





paprika




1

tablespoon





chili powder




1

teaspoon





light brown sugar




1

teaspoon





pepper




1/2

teaspoon





salt




1 1/2

pounds





boneless skinless chicken breasts, cut into strips




1

tablespoon





olive oil




1





green bell pepper

cored and chopped




1





red bell pepper

cored and chopped




1

cup





chopped red onion




1

(5-ounce) can





evaporated skim milk




1/4

cup





chopped green onions
In large resealable bag, combine paprika, chili powder, brown sugar, pepper, salt. Add chicken, shake to coat.


In large nonstick skillet coated with nonstick cooking spray, heat olive oil over medium heat, then sauté chicken 5–7 minutes or until browned and done. Remove to a plate.


In same skillet, add green pepper, red pepper, onion, scraping bits from bottom of pan. Cook over medium heat 5 minutes or until tender.


Add evaporated milk, stirring for one minute or until heated and bubbly. Serve chicken with sauce, sprinkle with green onions, if desired.
Per Serving: Calories 299, Calories from fat (%) 19, Fat (g) 6, Saturated Fat (g) 1, Cholesterol (mg) 100, Sodium (mg) 472, Carbohydrate (g) 16, Dietary Fiber (g) 4, Sugars (g) 10, Protein (g) 44, Diabetic Exchanges: 1 carbohydrate, 6 very lean meat
Blackened Chicken Breast Recipe is Diabetic-Friendly Chicken Dinner
Holly Clegg's Gulf Coast Favorites cookbook gives you the best healthy Cajun recipes. Who doesn't like the wonderful Cajun and Creole recipes? All your favorite healthy Louisiana recipes so you can make them at home and easily. Even this Cajun Crawfish Cakes recipe is easy!
So, don't fret, as Holly's trim and terrific blackening approach will have your mouth dancing with flavor without the added fat that usually characterizes this Cajun blackened chicken recipe of amazing blends of seasoning and loads of melted butter. This cooking method is a perfect way to eat low fat, diabetic-friendly meals without missing any flavor. Because of the crispy crust of seasonings that forms when searing in the juices of a blackened dish – no added butter needed!
Every Kitchen Should Have Kitchen Scissors
Do you have kitchen scissors? If not, kitchen scissors are truly one of the best gadgets. Use them to cut poultry into tenders or to trim chicken. Wow, it makes trimming all meat and fish so easy!
When you are making the blackened chicken recipe, you can buy chicken breasts and cut into tenders yourself. They are dishwasher safe and any gadget that helps cut kitchen time is of top priority. You will find so many uses for kitchen scissors from trimming chicken to cutting pizza.
More Diabetic Cajun Recipes Like Blackened Chicken Breast Recipe
Two top favorite diabetic Cajun recipes are Holly Clegg's easy Crawfish Etouffee and the amazing Chicken and Sausage Gumbo.  Why make it any other way when you can enjoy these Louisiana recipes healthy!  Best of all, only everyday ingredients are used to simplify healthy cooking! Find more easy healthy chicken breast recipes on the blog!
Get All of Holly's Healthy Easy Cookbooks
The post Cajun Blackened Chicken Recipe – Delicious Addition to Weekly Meal Plan appeared first on The Healthy Cooking Blog.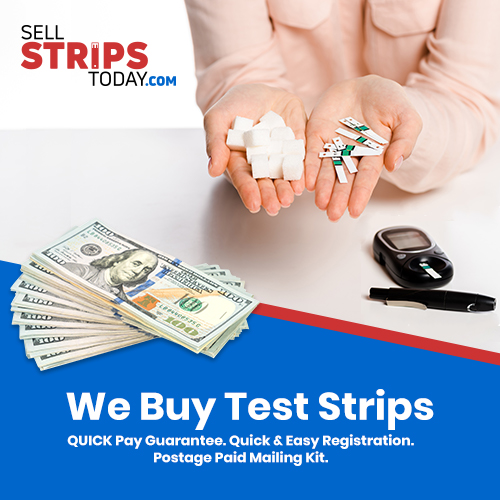 Sell Unused Diabetic Strips Today!