Best Chicken Tortilla Soup Recipe Crowd Pleasing Chicken Chili Style Soup !
Best Chicken Tortilla Soup recipe makes a great tortilla soup when you have extras to feed and when you're goal is eating healthy.  You are in luck! I spoke in Clinton, LA (had so MUCH FUN) for 100 people and we served lunch from my cookbooks for healthy eating. Everyone loved my menu of healthy easy recipes and asked for the recipes! They served my Chicken Tortilla Soup recipe in my Gulf Coast cookbook and I had two bowls while signing books. I love Chicken Tortilla Soup and my recipe almost tastes like an easy White Chicken Chili.  Chunky, hearty and oh soooo good!  I couldn't wait to share this my easy chicken tortilla soup ecipe with you on my healthy cooking blog.  Guess what?  There's was not one drop of this delicious soup left.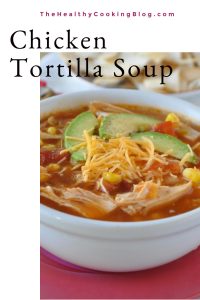 Best Chicken Tortilla Soup
Leftover chicken (Rotisserie chicken), southwestern seasonings and canned broth quickly turn into a mouth-watering one-pot meal.

Servings
13
(1 cup) servings



4

6-8-inch





flour tortillas

cut into 1/4-inch strips




1

cup





chopped onion




1

teaspoon





minced garlic




1 1/2

pounds





boneless, skinless chicken breasts

cut into strips (4 cups cooked)




1

(28-ounce) can





chopped tomatoes with juice




6

cups





fat-free chicken broth




1

(4-ounce) can





chopped green chilies

drained




1

(16-ounce) package





frozen corn




1

(15 1/2-ounce) can





Great Northern or navy white beans

drained and rinsed




2

tablespoons





lime juice




1 1/2

teaspoons





ground cumin




1

tablespoon





chili powder




1/2

cup





chopped green onions




1

cup





shredded reduced-fat Mexican-blend or Cheddar cheese




1





small avocado

peeled and diced
Preheat oven 350°F. Place tortilla strips on baking sheet and bake 10-15 minutes or until crisp. Set aside.


In nonstick pot coated with nonstick cooking spray, sauté onion and garlic over medium heat until tender, about 7 minutes.


Add chicken and continue cooking until chicken is done, about 5-7 minutes. Add tomatoes with juice, broth, green chilies, corn, beans, lime juice, cumin, and chili powder. Bring to boil, reduce heat and simmer about 10-15 minutes.


Serve soup topped with tortilla strips, green onions, cheese, and avocado.
Per Serving: Calories 209 Calories from Fat 17% Fat 4g, Saturated Fat 2g, Cholesterol 37mg Sodium 571mg Carbohydrates 24g Dietary Fiber 5g Total Sugars 4g, Protein 20g, Dietary Exchanges:  1 1/2 starch,  2 lean meat
Best of Chicken Chili and Tortilla Soup with Chunky Chili Flavor
A cross between an easy White Chicken Chili and Tortilla Soup, this chunky chicken tortilla soup recipe is filled with beans, corn, and southwestern flair.  I think that's the reason this recipe is the best Chicken Tortilla Soup recipe. The best of both worlds!  This recipe is a thicker, chunkier soup with corn and beans. When serving the soup,  I always serve my soup with condiments.  I  top this healthy chicken tortilla soup recipe with  cheese, avocados, and tortilla strips.  If you're having trouble with deciding dinner like many of us do.  I have the dinner solution of what to prepare quickly and a family one-pot meal. I believe in convenience food so pick up a rotisserie chicken and you probably have the other ingredients in your pantry.
You'll Love My Easy White Chicken Chili Style Chicken Tortilla Soup
I know this is my Louisiana cookbook but this book really includes recipes from my Louisiana kitchen. So, you get the best healthy Cajun recipes plus lots of healthy easy recipes. There's tons of other great soup recipes on my blog but I especially like this one. Also, you'll find the easiest Crawfish and Corn Soup with only six ingredients and BBQ Shrimp has been a standout Cajun recipe.
Best of all, these easy Cajun recipes you can make wherever you are and they are also healthy Cajun recipes. Who said Louisiana cooking wasn't good for you–not if you hang with me! If you like soups, check out my Chicken and Sausage Gumbo or my fabulous White Chicken Chili!
I Love A White Plain Soup Bowl to Serve My Best Chicken Tortilla Soup Recipe
I really like these plain soup bowls! If you don't have soup bowls, these bowls make a great option. The perfect size and I am partial to white bowls. Dishwasher safe and with colder weather around the corner, you'll find you will be pulling out these bowls all the time.
They go with whatever dishes you have and this easy Chicken Tortilla Soup is a one-meal dish-even hearty enough to fill up those big eaters and so delicious!
Chicken Tortilla Soup Recipes Perfect For Tailgating in Your Home
I love serving my best Chicken Tortilla Soup recipe for company coming over to watch games or gatherings.  You can even keep the soup warm in a slow cooker and serve with mugs.  Have the condiments in a bowl surrounding the soup and let everyone serves themselves.  Who doesn't love Chicken Tortilla Soup and you'll really enjoy my healthy easy tortilla soup recipe.  The ingredient list might look long but the recipe is easy.  Can you open cans? If you want another simple soup that's also as easy as opening cans, try my Black Bean Soup!
My New Favorite Pot Holders 
Once you use these silicon pot holders, they will be your one and only kitchen pot holders for several reasons. They are easy to use and best of all, they never get dirty. My cloth pot holders end up so filthy so these colorful clean heat resistant pot holders are inexpensive and the best!
Diabetic Chicken Tortilla Soup Recipe
Yes, this delicious Chicken Tortilla Soup recipe makes an easy diabetic chicken tortilla soup.  All my recipes include nutritional information and this recipe is even diabetic. It also has 5 grams fiber making it a high fiber food option and we always need to include more fiber into our diet.  This is a one-meal dish and works great in a slow cooker or take a short cut with rotisserie chicken! Lots of people love a chicken tortilla slow cooker soup but honestly, I use my crock pot to serve my Tortilla soup in!
Can you eat delicious food that is also good for you? Of course! Diabetic friendly meals definitely do not have to be boring and tasteless. This Diabetic Meal Plan & Recipes Downloadable is your easy go-to guide to meal planning diabetic meals the whole family will love. This comprehensive guide includes 13 weekly recipes, from dinners, lunch, snacks and dessert.
Shop my Cookbooks
The post Best Chicken Tortilla Soup Recipe – Tastes Like Easy White Chicken Chili appeared first on The Healthy Cooking Blog.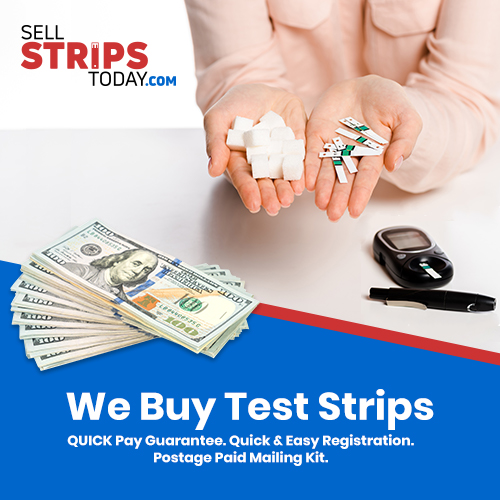 Sell Unused Diabetic Strips Today!