Wow Your Guests With Best Beef Tenderloin Recipe – Plan Ahead
When planning a dinner party, Holly's Dijon Pepper Beef Tenderloin recipe always tops the menu. This recipe makes you appear like a chef in the kitchen and truly is effortless. This scrumptious  and easy whole beef tenderloin recipe from Guy's Guide To Eating Well makes such an impression.  Here's an example of Holly's  Dinner Party Recipes and start a few days prior to the party preparing my make-ahead recipes. I don't want to leave all the work for the day of the party.  Marinate meat for 48 hours and then cook the beef tenderloin in oven.  Simple and a guaranteed hit!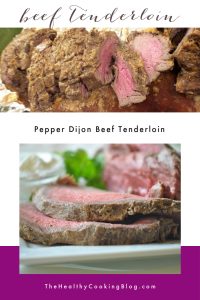 Whole Beef Tenderloin Recipe Always On Menu For Entree
Purchase the whole tenderloin and just trim the fat off yourself or have the butcher do only a little trimming.  If you go to Costco or Sam's you get a better price on these tenderloins.  They are very pricey but worth every penny!  Have fun with entertaining and use Holly's trim & terrific recipes no matter how many people you have coming.
Step By Step to Impressive Yet Easy Beef Tenderloin Recipe
First start with marinating the tenderloin.  After you marinate the beef tenderloin for up to 3 days, let it come to room temperature and then cover it heavily with the Dijon and Worcestershire Sauce.  Then, LOTS of pepper!  Always cook the beef tenderloin on a foil lined pan for easy clean up.  What's great is you cook this beef tenderloin recipe in the oven. OMG, if beef could melt-in-your-mouth, it does when you take that first bite!
Pepper Dijon Beef Tenderloin
For dinner parties or gatherings, this most amazing meat sets the mood for a 'real deal-maker" dinner. A no fail winning recipe and definitively on my short list
Prep Time
5
minutes + marinating time



5-6

pound





whole beef tenderloin

trimmed of excess fat






salt and pepper to taste




1/2

cup





fat free Italian dressing




1/2

cup





worcestershire sauce




1/2

cup





dijon mustard






Coarsely cracked black pepper
Lay tenderloin in glass dish and season to taste

Cover and pat tenderloin with Italian dressing and Worcestershire sauce. Cover with plastic wrap and refrigerate 48 hours time permitting. Let meat come to room temperature before cooking (at least one hour).

Preheat oven 500°F. Pour off marinade, cover meat with Dijon mustard and heavily with cracked black pepper. Transfer to baking dish. Cook 500°F 12 minutes and reduce temperature to 275°F and cook another 25 – 30 minutes depending on doneness.
Per Serving:  Calories 148, Calories from Fat 39%, Fat 6g, Saturated Fat 2g, Cholesterol  59 mg, Sodium 242 mg, Carbohydrates 1g, Dietary Fiber 0g, Protein 21g, Total Sugars 0g,Dietary Exchanges: 3 lean meat
Dijon Pepper Beef Tenderloin recipe is from Holly's men's cookbook, Guy's Guide To Eating Well.  Guy's Guide contains recipes that men love to cook and eat. From the Food for the Mood Chapter, this recipe is rich in protein.  Also, you'll learn tips like "Remember to start marinating 48 hours before. Be sure to let meat come to room temperature before cooking."
There's chapters like Grilling & Hunting and Fix It Fast or Fix It Slow plus preventive health chapters including heart disease, joint pain, cancer and more.
Whole Beef Tenderloin In Oven Cooks Perfectly Every Time
The cooking directions might seem a little different but this is the best of all the whole beef tenderloin recipes.  Sometimes, if the tenderloin is really big, you might cook it a little longer.  With the Dijon pepper seasoning and marinated in Italian dressing, you won't believe how something so simple can taste amazing!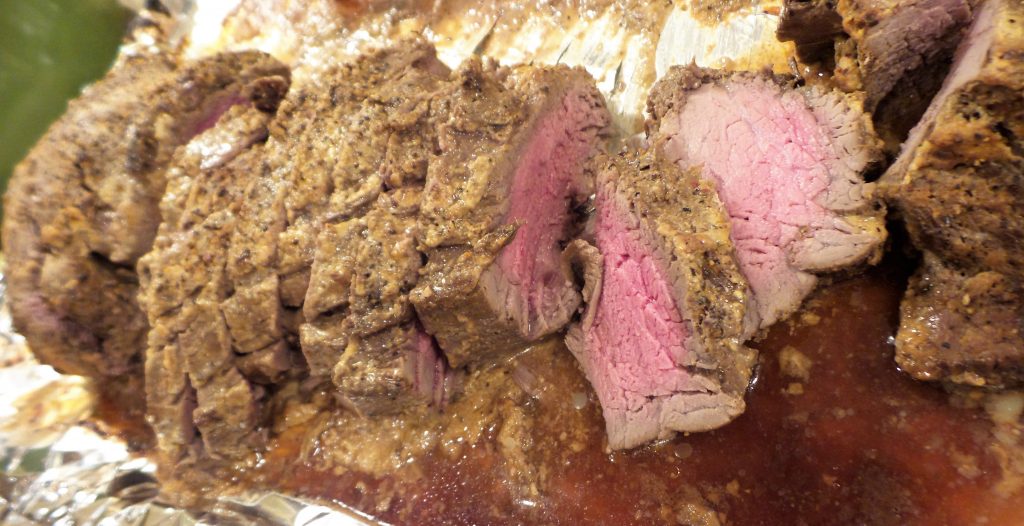 Beef Is Good For You!
This whole tenderloin recipe has been a favorite for years.  When Holly was writing Guy's Guide To Eating Well, she decided to  include her favorite beef tenderloin recipe.  So, she put the recipe in the Food For The Mood Chapter as it's the perfect recipe for a romantic dinner or any time you entertain.  Red meat is a good source of zinc.  So, give your libido a boost since zinc raises testosterone. Did you know that?
Find more easy and impressive dinner party recipes for easy entertaining on Holly's healthy cooking blog.
Get All My Healthy Easy Cookbooks
The post Beef Tenderloin Recipe In Oven – Impressive, Easy and Perfectly Cooked appeared first on The Healthy Cooking Blog.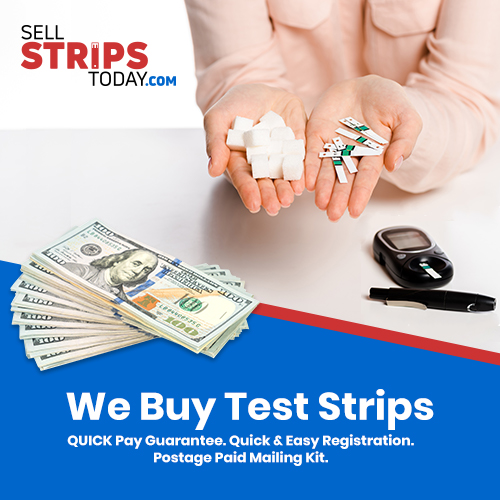 Sell Unused Diabetic Strips Today!